Backpacking (wilderness)
This article is about backpacking in the wilderness. For other uses, see
Backpacking
.
Backpacking
(also
tramping
or
trekking
or
bushwalking
in some countries) combines
hiking
and
camping
in a single trip. A backpacker hikes into the backcountry to spend one or more nights there, and carries supplies and equipment to satisfy sleeping and eating needs.
What is backpacking?
backpack
. This gear must include
food
,
water
, and shelter, or the means to obtain them, but very little else, and often in a more compact and simpler form than one would use for stationary camping. A backpacking trip must include at least one overnight stay in the wilderness (otherwise it is a
day hike
). Many backpacking trips last just a
weekend
(one or two nights), but long-distance expeditions may last
weeks
or
months
, sometimes aided by planned food and supply drops.
Backpacking camps are more spartan than ordinary camps. In areas that experience a regular traffic of backpackers, a hike-in camp might have a
fire ring
and a small wooden bulletin board with a
map
and some warning or information signs. Many hike-in camps are no more than level patches of ground without
scrub
or
underbrush
. In very remote areas, established camps do not exist at all, and travelers must choose appropriate camps themselves.
In some places, backpackers have access to lodging that are more substantial than a tent. In the more remote parts of
Great Britain
,
bothies
exist to provide simple (free) accommodation for backpackers. Another example is the High Sierra Camps in
Yosemite National Park
.
Mountain huts
provide similar accommodation in other countries, so being a member of a mountain hut organization is advantageous (perhaps required) to make use of their facilities. On other trails (e.g. the
Appalachian Trail
) there are somewhat more established shelters of a sort that offer a place for weary hikers to spend the night without needing to set up a tent.
Most backpackers purposely try to avoid impacting on the land through which they travel. This includes following established
trails
as much as possible, not removing anything, and not leaving residue in the backcountry. The
Leave No Trace
movement offers a set of guidelines for low-impact backpacking ("Leave nothing but footprints. Take nothing but photos. Kill nothing but time.").
Professional backpacking
For some people, backpacking is a necessary and integral part of their job.
In the military a framed backpack is referred to as a "rucksack" or simply a "ruck". Soldiers who serve in the militaries of most nation-states usually receive at least some rudimentary backpacking training while infantrymen are often trained to a more advanced backpacking skill level. They share many common attributes with amateur backpackers: being self-contained, use of land-navigation skills and actively minimizing their environmental foot-print. Although there are also a few differences such as the need to carry an assault rifle, other weapons, ammunition and communication equipment as well as at times maintaining "noise and light discipline", which means remaining silent and in darkness to avoid detection.
Other professional backpackers may be scientific and academic researchers, professional guides, photographers, park-rangers and "search & rescue" personnel.
Motivation
recreation
, to explore places that they consider beautiful and fascinating, many of which cannot be accessed in any other way. A backpacker can travel deeper into remote areas, away from people and their effects, than a day-hiker can. However, backpacking presents more advantages besides distance of travel. Many weekend trips cover routes that could be hiked in a single day, but people choose to backpack them anyway, for the experience of staying overnight.
These possibilities come with disadvantages. The weight of a pack, laden with supplies and gear, forces backpackers to travel more slowly than day-hikers would, and it can become a nuisance and a distraction from enjoying the scenery. In addition, camp chores (such as pitching camp, breaking camp, and cooking) can easily consume several hours every day.
Backpackers face many risks, including adverse
weather
, difficult terrain, treacherous
river
crossings, and hungry or unpredictable animals (although the perceived danger from wild animals usually greatly exceeds the true risk). They are subject to illnesses, which run the gamut from simple
dehydration
to
heat exhaustion
,
hypothermia
,
altitude sickness
, and physical
injury
. The remoteness of backpacking locations exacerbates any mishap. However, these hazards do not deter backpackers who are properly prepared. Some simply accept danger as a risk that they must endure if they want to backpack; for others, the potential dangers actually enhance the allure of the wilderness.
Equipment
fatigue
, injury and soreness, and allows the backpacker to travel longer distances. Every piece of equipment is evaluated for a balance of utility versus weight. Significant reductions in weight can usually be achieved with little sacrifice in equipment utility, though very lightweight equipment is usually significantly more costly.
A large industry has developed to provide lightweight gear and food for backpackers. The gear includes the backpacks themselves, as well as ordinary camping equipment modified to reduce the weight, by either reducing the size, reducing the durability, or using lighter materials such as special
plastics
,
alloys
of
aluminium
,
titanium
,
composite materials
, impregnated fabrics and
carbon fiber
. Designers of
portable stoves
and
tents
have been particularly ingenious. Homemade gear is common too, such as the
beverage-can stove
.
Some backpackers use lighter and more compact gear than do others. The most radical measures taken in this regard are sometimes called
ultralight backpacking
.
Due to the emphasis on weight reduction, a practical joke common in some circles is to secretly pack a small but relatively heavy luxury item, such as a
soft drink
, into another backpacker's pack. Then, once the group stops for a rest, the perpetrator retrieves the item, thanks the bearer for carrying it, and consumes it.
Water
Backpackers always carry some
water
from the trailhead, to drink while walking. For short trips, they may carry enough to last the whole trip, but for long trips this is not practical. A backpacker needs anywhere from 2 to 8
L
(roughly 1/2 to 2 gallons) or more per day, depending on conditions, making a water supply for more than a few days prohibitively heavy. Backpackers typically carry two to four liters of water depending on conditions and availability. Although some backpacking camps in heavily-used areas provide potable water, it must usually be obtained from
lakes
and
streams
.
Drinking and cooking water nearly always needs treatment with a filter or chemical tablets to protect against
bacteria
and
protozoa
(see
Potability of backcountry water
and
Portable water purification
). If water is unavailable, or if the only water available is irreparably filthy, backpackers may need to carry large amounts of water for long distances.
Water may be stored in bottles or in soft, collapsible
hydration packs
(bladders). Some backpackers store water in ordinary plastic beverage bottles, while others use special
Lexan
bottles or metal
canteens
. For accessibility they may be carried by a shoulder strap or attached to the outside of a pack. Bladders are typically made of plastic, rubber, and/or fabric. They are light, easily stored and collapsible. They may be equipped with drinking hoses for easy access while hiking. In spite of this convenience, bladders are more prone to leaking than bottles, particularly at the hose connections. Hoses also allow the hiker to lose track of the water supply in the bladder and to deplete it prematurely.
Food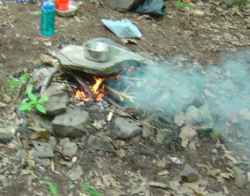 For more information, see outdoor cooking.
Some backpackers enjoy cooking elaborate meals with fresh ingredients, particularly on short trips, and others carry the gear and take the time to
catch fish
or
hunt
small game for food. However, especially for long expeditions, most backpackers' food criteria are roughly the same: high
energy
content (particularly
protein
), with long
shelf life
and low
mass
and
volume
. An additional concern is weight; while
Dutch oven
and
campfire
cookery are historically popular, small liquid-fuel
campstoves
and ultralight cooking pots made of
aluminum
or
titanium
are more common in modern usage due to weight limitations and fire restrictions in many locales.
Ordinary household foods used on backpacking trips include
cheese
,
bread
,
sausage
,
fruit
,
peanut butter
, and
pasta
. Popular snack foods include
trail mix
, easily prepared at home; convenient and nutritious
energy bars
; and
chocolate
and other forms of
candy
, which provide quick energy and flavor. Traditional outdoor food includes dried foodstuffs such as
jerky
or
pemmican
, and also products like
oatmeal
(which can also be consumed raw in emergency situations).
Most backpackers avoid
canned food
, except for meats or small delicacies. Metal cans and their contents are usually heavy, and, like all trash, the empties
must be carried back out
.
For
dinners
, many hikers use specially manufactured, pre-cooked food that can be eaten hot. It is often sold in large, stiff bags that double as eating vessels. One common variety of special backpacking food is
freeze-dried
food, which can be quickly reconstituted by adding hot water. One can also purchase a commercial food dehydrator which removes the majority of water from a pre-cooked meal. To eat, water is mixed in with the meal several hours before eating and allowed to rehyrdate before heating. Some various distributors of this are Backpackers Pantry and Mountain Outfitters. Another kind of special backpacking food is
UHT-packaged
without dehydration, and can be reheated with a special, water-activated
chemical heater
. This technology originated with the U.S. military's
Meal Ready-to-Eat
("MRE"), but is now produced also for the commercial market. The small chemical heater obviates the need for a
portable stove
and fuel, but the meals and packaging weigh so much that, for more than a few meals, there is no weight advantage. On the other hand, MRE's were developed with many more factors than mere weight in mind, and they still make excellent backpacking food for several reasons, such as a) they do not need to be rehydrated nor heated or cooked in any manner, b) they are very durably packaged, c) a single MRE contains a full meal, complete with snack and desert, d) they offer a great deal of variety in each meal, including condiments such as Tabasco sauce, e) they are individually packaged inside the "brown plastic wrapper", so that you can place individual components in various pockets and "eat on the move". As more and more "big box" retail stores carry pre-packaged dehydrated foods (such as Mountain House Brand) however, it is becoming increasingly easier to buy packaged meals retail versus mail order, whereas MRE's are rarely carried in retail stores.
There is a genre of cookbooks specializing in trailside food and the special challenges inherent in backcountry cooking. Most such cookbooks espouse one of two philosophies; the first, generally used on short trips, involves planning out meals and preparing many ingredients in one's home kitchen before departure. The second method, bulk rationing, simply supplies the hiker with ingredients, allowing on-trail cooking with minimal prior planning, and is sometimes used for extended outings. A third form of the genre deals in Dutch oven cookery, which has considerable historical cachet (especially in countries such as the United States with a long pioneer tradition), but is dependent on suitable locations for a campfire.
Winter backpacking
Although backpacking in the winter is rewarding, it can be dangerous and generally requires more gear. Backpackers may need
skis
or
snowshoes
to traverse deep snow, or
crampons
to cross ice.
Cotton
clothing, which absorbs moisture and chills the body, is particularly dangerous in cold weather, so backpackers stick to synthetic materials or materials that won't hold moisture. Special low-temperature sleeping bags and tents can be expensive, but will be more comfortable than many layers of warm clothing. However when hiking in cold weather it is always better to hike with varying layers of clothing so that as the body heats up layers can be taken off without causing the wearer to sweat or become very chilled.
Skills and safety
See also
Related activities
See also
External links
Backpacking
may refer to:
Backpacking (wilderness), hiking or camping overnight in the wilderness
Backpacking (travel), low-cost, generally urban, travel with minimal luggage and frugal accommodations
.....
Click the link for more information.
Hiking
is a form of walking, undertaken with the specific purpose of exploring and enjoying the scenery. It usually takes place on trails in rural or wilderness areas.
The word 'hiking' is understood in all English-speaking countries, but there are differences in usage.
.....
Click the link for more information.
Camping
is an outdoor recreational activity, in which the participants, known as campers, get away from civilization and enjoy nature while spending one or more nights at a campsite. Camping may involve the use of a tent, a primitive structure, or no shelter at all.
.....
Click the link for more information.
backpack
is, in its simplest form, a cloth sack carried on one's back and secured with two straps that go over the shoulders, but there can be acceptions, there are many ways to carry backpacks one way is: carry it in one hand (like a breifcase).
.....
Click the link for more information.
Food
is any substance, usually composed primarily of carbohydrates, fats, water and/or proteins, that can be eaten or drunk by an animal or human being for nutrition or pleasure.
.....
Click the link for more information.
Water
is a common chemical substance that is essential to all known forms of life.
[1]
In typical usage,
water
refers only to its liquid form or state, but the substance also has a solid state,
ice
, and a gaseous state,
water vapor
.
.....
Click the link for more information.
Hiking
is a form of walking, undertaken with the specific purpose of exploring and enjoying the scenery. It usually takes place on trails in rural or wilderness areas.
The word 'hiking' is understood in all English-speaking countries, but there are differences in usage.
.....
Click the link for more information.
The
weekend
is a part of the week lasting one or two days in which most paid workers do not work. This is a time for leisure and recreation, and/or for religious activities.
.....
Click the link for more information.
week
is a unit of time longer than a day and shorter than a month. In most modern calendars, including the Gregorian calendar, the week is a period of
seven days
.
The week as indicator of market day
.....
Click the link for more information.
For the Egyptian hawk-god, see .
The
month
is a unit of time, used with calendars, which is approximately as extensive as some natural period related to the motion of the Moon.
.....
Click the link for more information.
A
fire ring
is a device used to contain campfires and prevent them from spreading and turning into wildfires.
A fire ring is designed to contain a fire that is built directly onto the ground, such as a campfire.
.....
Click the link for more information.
MAP
may refer to:
MAP, the ISO 639 alpha-3 for Austronesian languages
MAP (band), an indie band from Riverside, California
Maghreb Arab Press, the official Moroccan news agency
Malawi Against Polio
.....
Click the link for more information.
Scrubland
is plant community characterized by scrub vegetation. "Scrub" consists of low shrubs, mixed with grasses, herbs, and geophytes. Scrublands are sometimes known as heathlands. Scrublands may be either naturally occurring or the result of human activity.
.....
Click the link for more information.
Underbrush
:
subter ramale
(commonly referred to as the understory), is any small shrubbery found underneath or near a tree or forest. Though underbrush is commonly thought of as simply the shrubbery in deciduous forests, it can also include shrubbery in place such as the .
.....
Click the link for more information.
This page is protected from moves until disputes have been resolved on the .
The reason for its protection is listed on the protection policy page. The page may still be edited but cannot be moved until unprotected.
.....
Click the link for more information.
bothy
is a simple shelter, generally left unlocked and available for anyone to use without charge. Bothies are to be found in remote, mountainous areas of Scotland, northern England and Wales. They are particularly common in the Scottish Highlands.
.....
Click the link for more information.
Location
California, United States
Nearest city
Mariposa
CoordinatesArea
761,266 acres (3,081 km²)
Established
October 1 1890
Total visitation
3,242,644 (in 2006)
Governing body.....
Click the link for more information.
Alpine hut
is a building located in the mountains intended to provide food and shelter to mountaineers and climbers. Alpine huts are usually operated by a section of an Alpine Club.
.....
Click the link for more information.
Length
2174 mi; 3498 km
Location
Eastern United States
Trailheads
Springer Mountain, Georgia
Mount Katahdin, Maine
Use
Hiking
Elevation Change
90 mi
[1]
Highest Point
Clingmans Dome
Lowest Point.....
Click the link for more information.
TNF-related apoptosis-inducing ligand (TRAIL)
, in the field of cell biology, is a ligand molecule which induces the process of cell death called apoptosis. It is a type II transmembrane protein with homology to other members of the tumor necrosis factor family.
.....
Click the link for more information.
Leave No Trace
is a set of principles for participation in outdoor recreation that seeks to minimize the impact on the natural environment. Proponents of Leave No Trace believe that individual impacts caused by recreation can accumulate to degrade the land.
.....
Click the link for more information.
Recreation
or
fun
is the use of time in a manner designed for therapeutic refreshment of one's body or mind. While leisure is more likely a form of entertainment or rest, recreation is active for the participant but in a refreshing and diverting manner.
.....
Click the link for more information.
weather
is the set of all extant phenomena in a given atmosphere at a given time. The term usually refers to the activity of these phenomena over short periods (hours or days), as opposed to the term climate, which refers to the average atmospheric conditions over longer periods of
.....
Click the link for more information.
river
is a natural waterway that transits water through a landscape from higher to lower elevations. It is an integral component of the water cycle. The water within a river is generally collected from precipitation through surface runoff, groundwater recharge (as seen at baseflow
.....
Click the link for more information.
Dehydration
Classification & external resources
ICD-10 E 86.
ICD-9 276.5
Dehydration
(
hypohydration
) is the removal of water (
hydro
in ancient Greek) from an object.
.....
Click the link for more information.
Heat stroke
Classification & external resources
ICD-10 T 67.0
ICD-9 992.0
DiseasesDB 5690
MedlinePlus 000056
eMedicine med/956
Heat exhaustion
Classification & external resources
ICD-10 T 67.3 - T 67.5
ICD-9 992.
.....
Click the link for more information.
Hypothermia
Classification & external resources
ICD-10 T68
ICD-9 780.9 , 991.6
Hypothermia
is a condition in which an organism's temperature drops below that required for normal metabolism and bodily functions.
.....
Click the link for more information.
Altitude sickness
Classification & external resources
ICD-10 T 70.2
ICD-9 E902.0
DiseasesDB 8375 29615
eMedicine med/3225
MeSH
D000532
Altitude sickness
, also known as
acute mountain sickness
(
AMS
) or
.....
Click the link for more information.
Injury
is damage or harm caused to the structure or function of the body caused by an outside or force, which may be physical or chemical. Injury may also refer to injured feelings or reputation rather than injuries to the body.
.....
Click the link for more information.
Fatigue
Classifications and external resources
ICD-10 R 53.
ICD-9 780.7
DiseasesDB 30079
MedlinePlus 003088
MeSH
D005221 The word
fatigue.....
Click the link for more information.
This article is copied from an
article on Wikipedia.org
- the free encyclopedia created and edited by online user community. The text was not checked or edited by anyone on our staff. Although the vast majority of the wikipedia encyclopedia articles provide accurate and timely information please do not assume the accuracy of any particular article. This article is distributed under the terms of
GNU Free Documentation License
.