Florida
The
State of Florida
(
IPA
:
/ˈflɒrɪdə/
) is located in the
southeastern region
of the
United States
. Most of the state is a large
peninsula
with the
Gulf of Mexico
on its west and the Atlantic Ocean on its east. Much of the state has a
humid subtropical climate
, except for southern Florida, where the climate is
tropical
.
[3]
Florida was named by
Juan Ponce de León
, who landed on the peninsula on
2 April
,
1513
, during
Pascua Florida
(
Spanish
for "Flowery Easter," referring to the
Easter season
). Florida is the 4th most populated state in the country. It ranks 4th in population only behind
New York
(3rd),
Texas
(2nd), and
California
(most).
History
See also: and
Archaeological research indicates that Florida had been inhabited for thousands of years before any European settlements. Of the many indigenous peoples, the largest known were the
Ais
, the
Apalachee
, the
Calusa
, the
Timucua
and the
Tocobago
tribes. Juan Ponce de León, a Spanish
conquistador
, named Florida in honor of his discovery of the land on
April 2
, 1513, during Pascua Florida, a Spanish term for the Easter season. From that date forward, the land became known as "La Florida." (Juan Ponce de León may not have been the first European to reach Florida; according to one report, at least one indigenous tribesman who he encountered in Florida in 1513 spoke Spanish.
[4]
Over the following century, both the Spanish and
French
established settlements in Florida, with varying degrees of success. In 1559, Spanish
Pensacola
was established by Don
Tristán de Luna y Arellano
as the first European settlement in the continental United States, but it had become abandoned by 1561 and would not be reinhabited until the 1690s. French
Huguenots
founded
Fort Caroline
in modern-day Jacksonville in 1564, but the fort was conquered by forces from the new Spanish colony of St. Augustine the following year. After Huguenot leader
Jean Ribault
had learned of the new Spanish threat, he launched an expedition to sack the Spanish settlement; en route, however, severe storms at sea waylaid the expedition, which consisted of most of the colony's men, allowing St. Augustine founder
Pedro Menéndez de Avilés
time to march his men over land and conquer Fort Caroline. Most of the Huguenots were slaughtered, and Menéndez de Avilés marched south and captured the survivors of the wrecked French fleet, ordering all but a few
Catholics
executed beside a river subsequently called
Matanzas
(Spanish for 'killings'). Later, St. Augustine came to serve as the capitals of the British and Spanish colonies of
East
and
West Florida
, respectively.
The Spanish never had a firm hold on Florida, and maintained tenuous control over the region by converting the local tribes, briefly with
Jesuits
and later with
Franciscan
friars. The local leaders (
caciques
) demonstrated their loyalty to the Spanish by converting to Roman Catholicism and welcoming the Franciscan priests into their villages.
The area of Spanish Florida diminished with the establishment of
English
colonies to the north and French colonies to the west. The English weakened Spanish power in the area by supplying their
Creek Indian
allies with firearms and urging them to raid the Timucuan and Apalachee client-tribes of the Spanish. The English attacked St. Augustine, burning the city and its cathedral to the ground several times, while the citizens hid behind the walls of the
Castillo de San Marcos
.
The Spanish, meanwhile, encouraged slaves to flee the English-held
Carolinas
and come to Florida, where they were converted to Roman Catholicism and given freedom. They settled in a buffer community north of St. Augustine, called Gracie Real de Santa Teresa de Mose, the first completely black settlement in what would become the United States.
Great Britain gained control of Florida diplomatically in 1763 through the
Peace of Paris
(the Castillo de San Marcos surrendered for the first time, having never been taken militarily). Britain tried to develop Florida through the importation of immigrants for labor, including some from
Minorca
and
Greece
, but this project ultimately failed. Spain regained Florida after Britain's defeat by the American colonies and the subsequent
Treaty of Versailles
in 1783. They offered land grants to anyone who settled the colony, and many Americans moved to the state. This Americanization resulted in 1819, by terms of the
Adams-Onís Treaty
, of Spain ceding Florida to the United States in exchange for the American renunciation of any claims on
Texas
and $5 million.
March 3
, 1845, Florida became the 27th state of the United States of America. On
January 10
,
1861
, before the formal outbreak of the
Civil War
, Florida seceded from the
Union
; ten days later, the state became a founding member of the
Confederate States of America
. The war ended in 1865. On
June 25
,
1868
, Florida's
congressional
representation was restored.
Until the mid-twentieth century, Florida was the least populous Southern state; however, the local climate, tempered by the growing availability of air conditioning, made the state a haven, and migration from the
Rust Belt
and the Northeast sharply increased the population. Economic prosperity combined with Florida's sudden elevation in profile led to the
Florida land boom of the 1920s
, which brought a brief period of intense land development before the
Great Depression
brought it all to a halt. Florida's economy would not fully recover until
World War II
. Today, with an estimated population over 18 million, Florida is the most populous state in the Southeastern United States, the second most populous state in the South behind Texas, and the fourth most populous in the United States. The
Census Bureau
estimates that "Florida, now the fourth most populous state, would edge past New York into third place in total population by 2011".
[5]
[6]
Geography
Further information: List of counties in Florida
Florida is situated mostly on a large peninsula between the Gulf of Mexico, the Atlantic Ocean, and the
Straits of Florida
. It extends to the northwest into a panhandle, extending along the northern Gulf of Mexico. It is bordered on the north by the states of
Georgia
and
Alabama
, and on the west, at the end of the panhandle, by Alabama. It is near the countries of the
Caribbean
, particularly the
Bahamas
and
Cuba
. Florida's extensive coast line made it a perceived target during World War II, so the government built airstrips all around the state. Today approximately 400 airports are still in service due to the coastal geography of the state. According to the National Drug Intelligence Center, Florida has 131 public airports, and more than 700 private airports, airstrips, heliports, and seaplane bases.
[7]
Florida is one of the largest states east of the Mississippi. Only
Alaska
and
Michigan
are larger in water area.
The Florida peninsula is a porous plateau of
karst
limestone
sitting atop bedrock. Extended systems of underwater caves,
sinkholes
and springs are found throughout the state and supply most of the water used by residents. The limestone is topped with sandy soils deposited as ancient
beaches
over millions of years as global sea levels rose and fell. During the last
Ice Age
, lower sea levels and a drier climate revealed a much wider peninsula, largely
desert
. At the southern end of the peninsula, the
Everglades
are in fact an enormously wide, very slow-flowing river.
At 345 feet (105 m)
above mean sea level
, Britton Hill is the highest point in Florida and the lowest highpoint of any U.S. state.
[8]
Contrary to popular belief, however, Florida is not entirely "flat." Some places, such as
Clearwater
, feature vistas that rise 50 to 100 feet (15 – 30 m) above the water. Much of the interior of Florida, typically 25 miles (40 km) or more away from the coastline, features hills with elevations ranging from 100 to 250 feet (30 – 76 m) in many locations. Lake County holds the highest point of peninsular Florida,
Sugarloaf Mountain
, at 312 feet (95 m).
[9]
Areas under control of the
National Park Service
include:
Areas under the control of the USDA
United States Forest Service
include:
See also:
Boundaries
The state line begins in the Atlantic Ocean, traveling west, south, and north up the
thalweg
of the
Saint Mary's River
. At the origin of that river, it then follows a straight line nearly due west and slightly north, to the point where the
confluence
of the
Flint River
(from Georgia) and the
Chattahoochee River
(down the Alabama/Georgia line) used to form Florida's Apalachicola River. (Since Woodruff Dam was built, this point has been under Lake Seminole.) The border with Georgia continues north through the lake for a short distance up the former thalweg of the Chattahoochee, then with Alabama runs due west along
latitude
31°N to the
Perdido River
, then south along its thalweg to the Gulf via Perdido Bay. Florida is mostly at sea level.
Climate
See also: and
The climate of Florida is tempered somewhat by its proximity to water. Most of the state has a humid subtropical climate, except for the southern part below Lake Okeechobee which has a true tropical climate.
[10]
Cold fronts can occasionally bring high winds and cool to cold temperatures to the entire state during late fall and winter. One such front swept through the peninsula on
November 25
,
1996
, bringing cold temperatures and winds up to 95 miles per hour (150 km/h), knocking out power to thousands and damaging mobile homes. The seasons in Florida are actually determined more by
precipitation
than by temperature with mild to cool, relatively dry winters and autumns (the dry season) and hot, wet
springs
and summers (the wet season). The
Gulf Stream
has a moderating effect on the climate, and although much of Florida commonly sees a high summer temperature over 90 degrees
Fahrenheit
(32 °C), the mercury seldom exceeds 100 degrees Fahrenheit (38 °C). The hottest temperature ever recorded in the state was 109 °F (43 °C), set on
June 29
,
1931
in
Monticello
. The coldest was – 2 °F (−19 °C), on
February 13
,
1899
, just 25 miles (40 km) away, in Tallahassee. Mean high temperatures for late July are primarily in the low 90s Fahrenheit (32 – 35 °C). Mean low temperatures for late January range from the low 40s Fahrenheit (4 – 7 °C) in northern Florida to the mid-50s (≈13 °C) in southern Florida.
The Florida Keys, being surrounded by water, have a more tropical climate, with lesser variability in temperatures. At
Key West
, temperatures rarely exceed 90 °F in the summer or fall below 60 °F in the winter, and frost has never been reported in the Keys.
Florida's nickname is the "Sunshine State", but severe weather is a common occurrence in the state. Central Florida is known as the
lightning
capital of the United States, as it experiences more lightning strikes than anywhere else in the country. Florida has the highest average precipitation of any state, in large part because afternoon
thunderstorms
are common in most of the state from late spring until early autumn. A fair day may be interrupted with a storm, only to return to sunshine. These thunderstorms, caused by collisions between airflow from the Gulf of Mexico and airflow from the Atlantic Ocean, pop up in the early afternoon and can bring heavy downpours, high winds, and sometimes
tornadoes
. Florida leads the United States in tornadoes per square mile, but these tornadoes do not typically reach the intensity of those in the
Midwest
and
Great Plains
.
Hail
often accompanies the most severe thunderstorms.
Snow in Florida
is a rare occurrence. During the
Great Blizzard of 1899
, Florida experienced
blizzard
conditions. During that time, the
Tampa Bay area
had "gulf-effect"
snow
, similar to
lake-effect snow
.
[11]
The Great Blizzard of 1899 is the only time the temperature in the state is known to have fallen below 0 degrees Fahrenheit (−18 °C). The most widespread snowfall in Florida history happened in January 19th 1977, when snow fell over much of the state in different times of the month, as far south as
Homestead
. Snow
flurries
fell on
Miami Beach
for the only time in recorded history. 1982's "
Cold Sunday
," which saw freezing conditions throughout much of the country, ruined that year's orange crops. In 1989, a severe hard freeze created lots of ice and also caused minor flurries in sections of the state and resulted in rolling blackouts from power failures caused by massive demands on the power grid for heating. A hard freeze in 2003 brought "ocean-effect" snow flurries to the Atlantic coast as far south as
Cape Canaveral
.
[12]
The
1993 Superstorm
brought blizzard conditions to the panhandle, while heavy rain and tornadoes beset the peninsula. The storm is believed to have been similar in composition to a
hurricane
, and even brought
storm surges
of six feet or more to regions of the Gulf coast.
Although some storms have formed out of season,
tropical cyclones
pose a severe threat during hurricane season, which lasts from
June 1
to
November 30
. Florida is the most hurricane-prone US state, with subtropical or tropical water on three sides and a lengthy coastline. It is rare for a hurricane season to pass without any impact in the state by at least a tropical storm. August to October is the most likely period for a hurricane in Florida.
Florida saw a slew of destruction in 2004, when it was hit by a record four hurricanes. Hurricanes
Charley
(
August 13
),
Frances
(
September 4
– 5),
Ivan
(
September 16
), and
Jeanne
(
September 25
– 26) cumulatively cost the state's economy US$42 billion. In 2005,
Hurricane Dennis
(
July 10
) became the fifth storm to strike Florida within eleven months. Later,
Hurricane Katrina
(
August 25
) passed through
South Florida
and
Hurricane Rita
(
September 20
) swept through the
Florida Keys
.
Hurricane Wilma
made landfall in Florida in the early morning of
October 24
as a
Category 3
hurricane, with the storm's eye hitting near
Cape Romano
, just south of
Marco Island
, according to the
National Hurricane Center
.
Florida was the site of the second costliest weather disaster in U.S. history,
Hurricane Andrew
, which caused more than US$25
billion
in damage when it struck on
August 24
,
1992
. In a long list of other infamous hurricane strikes are the
1926 Great Miami Hurricane
, the
1928 Okeechobee Hurricane
, the
Labor Day Hurricane of 1935
,
Hurricane Donna
in 1960, and
Hurricane Opal
in 1995.
Monthly Normal High and Low Temperatures For Various Florida Cities
City
Jan
Feb
Mar
Apr
May
Jun
Jul
Aug
Sep
Oct
Nov
Dec
Apalachicola
62/43
65/46
70/51
76/58
83/65
88/72
90/74
89/74
87/71
80/60
72/52
65/45
Daytona Beach
70/47
71/49
76/54
80/58
85/64
89/71
91/72
90/73
88/72
83/65
77/57
71/50
Fort Myers
75/54
76/55
80/59
84/63
89/68
91/73
92/74
92/74
90/74
86/69
81/62
77/56
Gainesville
66/42
69/45
75/50
80/55
86/62
90/68
91/71
90/71
87/68
81/59
74/51
68/44
Jacksonville
64/42
67/44
73/50
79/55
84/62
89/69
91/72
89/72
86/69
79/60
72/51
66/44
Key West
75/65
76/66
79/69
82/72
85/76
88/79
89/80
90/79
88/78
85/76
81/72
77/67
Miami
76/60
78/60
81/64
84/68
87/72
90/75
91/76
91/76
89/76
85/72
81/68
78/62
Orlando
72/50
74/51
79/56
83/60
88/66
91/71
92/73
92/73
90/72
85/66
79/59
73/53
Pensacola
61/43
64/45
70/52
76/58
83/66
89/72
91/74
90/74
87/70
79/60
70/51
63/45
Tallahassee
64/40
67/42
74/48
80/53
86/62
91/70
92/73
92/73
88/69
81/57
73/48
66/42
Tampa
70/52
72/54
76/58
81/62
86/69
89/74
90/75
90/75
89/74
84/68
78/61
72/55
Vero Beach
73/53
74/54
78/58
81/62
85/67
89/72
90/73
90/73
89/73
84/68
79/62
75/55
West Palm Beach
75/57
76/58
79/62
82/65
86/70
88/74
90/75
90/75
89/75
85/71
80/66
76/60
[13]
Fauna
Marine Mammals : Bottlenose Dolphin, Pilot Whale, Northern Right Whale, Manatee
Reptiles : Alligator, Crocodile, Eastern Diamondback and Pygmy Rattlesnakes, Gopher Tortoise, Green & Leatherback Sea Turtles, Indigo Snake
Mammals : Panther, Whitetail Deer, Key Deer, Bobcats, Southern Black Bear, Armadillos
Birds : Bald Eagle, Crested Caracara, Snail Kite, Osprey, Pelicans, Sea Gulls, Whooping & Sandhill Cranes, Roseate Spoonbill, Florida Scrub Jay (State endemic), and many more. Note : Florida is a winter home for most species of eastern North American birds.
Environmental issues
Florida ranks forty-sixth in total energy consumption per capita, despite the heavy reliance on air conditioners and pool pumps. This includes coal, natural gas, petroleum, and retail electricity sales. It is estimated that only 1% of energy in the state is generated through renewable resources.
[14]
Increasing landfill space is also an issue.
St. Lucie County
is planning to experiment with burning trash through
plasma arc gasification
to generate energy and reduce landfill space. The experiment will be the largest of its kind in the world to date, and begin operation no later than 2009. If successful, experts estimate that the entire St. Lucie County landfill, estimated to contain 4.3 million tons of trash, will disappear within 18 years. Materials created in the energy production can also be used in road construction.
[15]
Some are concerned about the effects of
climate change
and blame it for the major hurricanes of 2004 and 2005; however, recent research suggests the storms are part of a natural cycle and not
Global Warming
.
[16]
[17]
[18]
In July 2007, Florida Governor Charlie Crist announced plans to sign executive orders that would impose strict new air-pollution standards in the state, with aims to reduce so called "
greenhouse-gas
" emissions by 80 percent of 1990 levels by 2050. Crist's orders would set new emissions targets for power companies, automobiles and trucks, and toughen conservation goals for state agencies and require state-owned vehicles to use alternative fuels.
[19]
Red Tide
has also been an issue on the Southwest coast of Florida. While there has been a great deal of conjecture over the cause of the toxic algae bloom, there is no evidence that it is being caused by pollution or that there has been an increase in the duration or frequency of red tides.
[20]
Since their accidental importation from South America into North America in the 1930s, the
Red imported fire ant
population has increased its territorial range to include most of the
Southern United States
, including Florida. They are more aggressive than most native ant species and have a painful sting.
[21]
Demographics
Population
Historical populations
Census
Pop.
%
1830
34,730

—

1840
54,477
0%
1850
87,445
0%
1860
140,424
0%
1870
187,748
0%
1880
269,493
0%
1890
391,422
0%
1900
528,542
0%
1910
752,619
0%
1920
968,470
0%
1930
1,468,211
0%
1940
1,897,414
0%
1950
2,771,305
0%
1960
4,951,560
0%
1970
6,789,443
0%
1980
9,746,324
0%
1990
12,937,926
0%
2000
15,982,378
0%
Florida has the 4th highest state population in the United States . The
center of population
of Florida is located in
Polk County
, in the town of
Lake Wales
[1]
. As of 2006, Florida's population was 18,089,888; an increase of 2,107,510 (over 13%) from 2000. The state grew 321,647, or 1.8% from 2005. Florida grows an average of 26,803 every month, 6700 every week, and 957 daily. Florida is the nation's third-fastest-growing state
[22]
due to its high job growth, mild climate, and relatively low cost of living.
Demographics of Florida (csv)
By race
White
Black
AIAN
Asian
NHPI
AIAN is American Indian or Alaskan Native - NHPI is Native Hawaiian or Pacific Islander
2000 (total population)
82.45%
15.66%
0.75%
2.11%
0.16%
2000 (Hispanic only)
15.94%
0.74%
0.14%
0.09%
0.03%
2005 (total population)
81.47%
16.31%
0.84%
2.52%
0.18%
2005 (Hispanic only)
18.48%
0.87%
0.21%
0.11%
0.04%
Growth 2000-2005 (total population)
9.99%
15.93%
23.95%
33.09%
29.08%
Growth 2000-2005 (non-Hispanic only)
5.43%
15.23%
15.67%
32.55%
24.49%
Growth 2000-2005 (Hispanic only)
28.99%
29.93%
58.98%
45.89%
45.66%
The largest reported ancestries in the 2000 Census were
German
(11.8%),
Irish
(10.3%),
English
(9.2%),
American
(8%) and
Italian
(6.3%).
[23]
American Civil War
, when
slavery
was legal, and during the
Reconstruction
era that followed,
African Americans
made up nearly half of the state's population.
[24]
Their proportion declined over the next century, as many moved north in the
Great Migration
while large numbers of northern
whites
moved to the state. Recently, the state's proportion of black residents has begun to grow again. Today, large concentrations of black residents can be found in northern Florida (notably in Jacksonville,
Gainesville
and Pensacola), the
Tampa Bay
area, the Orlando area (especially in the city of Orlando and
Sanford
), and South Florida (where their numbers have been bolstered by significant
immigration
from
Haiti
and
Jamaica
).
Florida's
Hispanic
population includes large communities of
Cuban Americans
in Miami and Tampa,
Puerto Ricans
in Tampa and Orlando, and
Central American
migrant workers in inland West-Central and South Florida. The Hispanic community continues to grow more affluent and mobile: between the years of 2000 and 2004,
Lee County
in
Southwest Florida
, which is largely suburban in character, had the fastest Hispanic population growth rate of any county in the United States.
[25]
Whites
of all ethnicities are present in all areas of the state. Those of
British
and
Irish
ancestry are present in large numbers in all the urban/suburban areas across the state. There is a large
German
population in Southwest Florida, a large
Greek
population in the
Tarpon Springs
area, a sizable and historic
Italian
community in the Miami area, and white Floridians of longer-present generations in the culturally southern areas of inland and northern Florida. Native white Floridians, especially those who have descended from long-time Florida families, affectionately refer to themselves as "
Florida crackers
." Like all the other southern states, they descend mainly from
Scots-Irish
as well as some British settlers.
Metropolitan areas
Metropolitan Statistical Areas
(MSAs) defined by the
United States Office of Management and Budget
(OMB). Thirty-eight of Florida's sixty-seven counties are in an MSA. Reflecting the distribution of population in Florida, Metropolitan areas in the state are concentrated around the coast of the peninsula. They form a continuous band on the east coast of Florida, stretching from the Jacksonville MSA to the Miami-Fort Lauderdale-Pompano Beach MSA, including every county on the east coast, with the exceptions of
Monroe County
. There is also a continuous band of MSAs on the west coast of the peninsula from the Tampa-St. Petersburg-Clearwater MSA to the Naples-Marco Island MSA, including all of the coastal counties from
Hernando County
to
Collier County
. The interior of the northern half of the peninsula also has several MSAs, connecting the east and west coast MSAs. A few MSAs are scattered across the Florida panhandle. The largest
metropolitan area
in the state as well as the entire southeastern United States is the
Miami-Fort Lauderdale-Pompano Beach Metropolitan Statistical Area
, with over five million people.
Largest cities and towns
| | | |
| --- | --- | --- |
| City Population > 700,000 City Population > 200,000 City Population > 150,000 | City Population > 100,000 | |
Languages
As of 2000, 76.91 percent of Florida residents age 5 and older spoke only
English
at home as a
first language
, while 16.46 percent spoke
Spanish
, and
French-based creole languages
(predominantly
Haitian Creole
) was spoken by 1.38 percent of the population.
French
was spoken by 0.83 percent, followed by
German
at 0.59 percent, and
Italian
at 0.44 percent of all residents.
[26]
. Florida's climate makes it a popular state for immigrants. Florida's public education system identifies over 200 first languages other than English spoken in the homes of students. In 1990, the
League of United Latin American Citizens (LULAC)
won a class action lawsuit against the state Department of Education that required educators to be trained in teaching
English for Speakers of Other Languages (ESOL)
.
[27]
Article II, Section 9, of the Florida Constitution provides that "English is the
official language
of the State of Florida." This provision was adopted in 1988 by a vote following an Initiative Petition.
Religion
Florida is mostly Protestant, with a Roman Catholic community that is growing because of
immigration
; it is now the single largest denomination in the state. There is also a sizable
Jewish
community, located mainly in South Florida; no other Southern state has such a large Jewish population. Florida's current religious affiliations are shown in the table below:
Christian, 81%
Protestant, 54%
Baptist, 19%
Methodist, 6%
Presbyterian, 4%
Episcopal, 3%
Lutheran, 3%
Pentecostal, 3%
Other Protestant, 16%
Roman Catholic, 26%
Mormon/LDS – 1%
Jewish, 4%
other religions, 1%
non-religious, 14%
Government
Presidential elections results

| Year | Republican | Democratic |
| --- | --- | --- |
| 2004 | 52.10% ''3,964,522 | 47.09% ''3,583,544 |
| 2000 | 48.85% ''2,912,790 | 48.84% ''2,912,253 |
| 1996 | 42.32% ''2,244,536 | 48.02% ''2,546,870 |
| 1992 | 40.89% ''2,173,310 | 39.00% 2,072,698 |
| 1988 | 60.87% ''2,618,885 | 38.51% ''1,656,701 |
| 1984 | 65.32% ''2,730,350 | 34.66% ''1,448,816 |
| 1980 | 55.52% ''2,046,951 | 38.50% ''1,419,475 |
| 1976 | 46.64% ''1,469,531 | 51.93% ''1,636,000 |
| 1972 | 71.91% ''1,857,759 | 27.80% ''718,117 |
| 1968 | 40.53% ''886,804 | 30.93% ''676,794 |
| 1964 | 48.85% ''905,941 | 51.15% ''948,540 |
| 1960 | 51.51% ''795,476 | 48.49% ''748,700 |
The basic structure, duties, function, and operations of the government of the State of Florida are defined and established by the
Florida Constitution
, which establishes the basic law of the state and guarantees various rights and freedoms of the people. The state government consists of three separate branches: judicial, executive, and legislative. The legislature enacts bills, which, if signed by the
governor
, become
Florida Statutes
.
The
Florida Legislature
comprises the
Florida Senate
, which has 40 members, and the
Florida House of Representatives
, which has 120 members. The current Governor of Florida is
Republican
Charlie Crist
. The
Florida Supreme Court
consists of a Chief Justice and six Justices.
There are 67 Counties in Florida, but some reports show only 66 because of Duval County, which is consolidated with the City of Jacksonville. There are 379 cities in Florida that report regularly to the Florida Department of Revenue, but there are other incorporated municipalities that do not. The primary source of revenue for the State government is sales tax, but the primary revenue source for cities and counties is property tax.
Florida was traditionally a Democratic state; at one time,
68.5 percent
of all Floridians were registered Democrats. In the last decades of the twentieth century, the realignment of the "
Solid South
" has led many conservative Democrats of Florida to vote with the Republican Party. This tendency, combined with explosive population growth, which has brought many Republicans into the state as well as
Cuban
immigration has given Florida a Republican edge in practice. For instance, the
Tampa
area, once a major center of Democratic
union
support, is now almost evenly split between registered Republicans and Democrats, making it part of the important
I-4
Corridor swing region. As a result, Republicans control the governorship and most other statewide elective offices: both houses of the state legislature, 16 of the state's 25 seats in the
House of Representatives
, and one of the state's two
Senate
seats. Because of the state's population and number of electoral votes, political analysts consider it to be a key
swing state
in
presidential
elections, which became obvious during the
2000 election
where Florida played a key role in the election.
Economy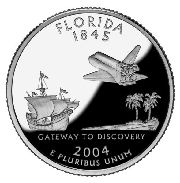 The gross state product of Florida in 2005 was $596 billion. Its GDP is one of the fastest-growing in the nation, with a 7.7% increase from 2004 to 2005.
[28]
Personal income was $30,098 per capita, ranking 26th in the nation.
Tourism
makes up the largest sector of the state economy. Warm weather and hundreds of miles of beaches attract about 60 million visitors to the state every year.
Amusement parks
, especially in the
Orlando
area, make up a significant portion of tourism. The
Walt Disney World Resort
is the largest vacation resort in the world, consisting of four
theme parks
and more than 20 hotels in
Lake Buena Vista, Florida
; it, and
Universal Orlando Resort
,
Busch Gardens
,
SeaWorld
, and other major parks drive state tourism. Many beach towns are also popular tourist destinations, particularly in the winter months.
The second largest industry is
agriculture
.
Citrus
fruit
, especially
orange
s, are a major part of the economy, and Florida produces the majority of citrus fruit grown in the U.S. – in 2006 67 percent of all citrus, 74 percent of oranges, 58 percent of
tangerines
, and 54 percent of
grapefruit
. About 95 percent of commercial orange production in the state is destined for processing (mostly as
orange juice
, the official
state beverage
).
[29]
Citrus canker
continues to be an issue of concern.
Sugarcane
also continues to be a major agricultural crop. Other products include
celery
.
[30]
The Everglades Agricultural Area is a major center for agriculture. The environmental impact of agriculture — especially
water pollution
is a major issue in Florida today.
Phosphate mining, concentrated in the
Bone Valley
, is the state's third-largest industry. The state produces about 75 percent of the phosphate required by farmers in the United States and 25 percent of the world supply, with about 95 percent used for agriculture (90 percent for
fertilizer
and 5 percent for
livestock
feed supplements) and 5 percent used for other products.
[31]
Since the arrival of the NASA
Merritt Island launch sites
on Cape Canaveral (most notably Kennedy Space Center) in 1962, Florida has developed a sizable
aerospace industry
.
In addition, the state has seen a recent boom in medical and bio-tech industries throughout its major metropolitan areas. Orlando was recently chosen as the official site for the new headquarters of the Burnham Institute, a major bio-tech and medical research company.
The state was one of the few states to not have a state
minimum wage
law until 2004, when voters passed a constitutional amendment establishing a state minimum wage and (unique among minimum wage laws) mandating that it be adjusted for inflation every six months. Currently, the minimum wage in the state of Florida is $6.67.
Historically, Florida's economy was based upon cattle farming and agriculture (especially
sugarcane
,
citrus
,
tomatoes
, and
strawberries
). In the early 1900, land speculators discovered Florida, and businessmen such as
Henry Plant
and
Henry Flagler
developed
railroad
systems, which led people to move in, drawn by the weather and local economies. From then on, tourism boomed, fueling a cycle of development that overwhelmed a great deal of farmland.
In 2004 and 2005, key industries along the west coast — commercial fishing and water-based tourist activities (sports fishing and diving) — were threatened by outbreaks of red tide, a discoloration of seawater caused by an efflorescence of toxin-producing dinoflagellates.
Florida is one of the nine states that do not impose a personal
income tax
(list of others)
. The state had imposed a tax on "intangible personal property" (stocks, bonds, mutual funds, money market funds, etc.), but this tax was abolished after 2006. The state
sales tax
rate is 6%
[32]
. Local governments may levy an additional local option sales tax of up to 1.5%. A locale's use-tax rate is the same as its sales-tax rate, including local options, if any. Use taxes are payable for purchases made out of state and brought into Florida within six months of the purchase date. Documentary stamps are required on deed transfers and mortgages. Other taxes include corporate income, communication services, unemployment, solid waste, insurance premium, pollutants, and various fuel taxes.
Education
Florida's public primary and secondary schools are administered by the Florida Department of Education.
The
State University System of Florida
manages and funds Florida's eleven public universities:
Supplementing the state's public university system is a network of 28 community colleges,with over 100 locations throughout the state.
[33]
One community college,
Miami-Dade College
, is the second-largest degree-granting institution in the United States, with over 54,000 students enrolled, and
Broward Community College
is among the 50 largest colleges and universities.
[34]
Florida has many private universities as well, the largest of which are
Nova Southeastern University
,
University of Miami
,
Saint Leo University
, and
Barry University
. The "Independent Colleges and Universities of Florida", a group representing 28 private colleges and universities, reported that their member institutions served over 121,000 students in the fall of 2005.
[35]
Transportation
Highways
Florida's
interstates
,
state highways
and
U.S. Highways
are maintained by the
Florida Department of Transportation
.
Florida's interstate highway system contains 1,473 miles (2,371 km) of highway, and there are 9,934 miles (15,987 km) of non-interstate highway in the state, such as Florida state highways and U.S. Highways.
Florida's primary interstate routes include:
Intercity rail
Florida is served by
Amtrak
: Sanford, in
Greater Orlando
, is the southern terminus of the
Amtrak Auto Train
, which originates at
Lorton, Virginia
, south of
Washington, DC
. Orlando is also the eastern terminus of the
Sunset Limited
, which travels across the southern United States via
New Orleans
,
Houston
, and
San Antonio
to its western terminus of
Los Angeles
. Florida is served by two additional Amtrak trains (the
Silver Star
and the
Silver Meteor
), which operate between
New York City
and Miami.
Airports
Orlando International Airport
(34,128,048 est. 2006),
Miami International Airport
(32,533,974 est. 2006),
Fort Lauderdale-Hollywood International Airport
(22,390,285 est. 2006) and
Tampa International Airport
(19,045,390 est. 2006).
Secondary airports, with annual passenger traffic exceeding 5 million each in 2005, include
Southwest Florida International Airport
(Fort Myers) (7,518,169 est. 2006),
Palm Beach International Airport
(West Palm Beach) (7,014,237 est. 2006),
Jacksonville International Airport
(5,741,652).
Regional Airports which processed over one million passengers each in 2005 are
Pensacola
(1,638,605),
Sarasota-Bradenton
(1,337,571), and
Tallahassee
(1,129,947) and
Sanford
(1,649,237) which is primarily served by international charter airlines.
[36]
Sports
Although Florida is the traditional home to
Major League Baseball
's
spring training
, and nearly 2/3 of all MLB teams still have a spring training presence in the state, Florida did not have a permanent major-league-level professional sports team until the
American Football League
added the
Miami Dolphins
in 1966. The state now has three
NFL
teams, two MLB teams, two
NBA
teams, and two
NHL
teams. With two of its most historically-important teams, Florida is one of the most important markets for the
Arena Football League
.
Golf
,
tennis
and
auto racing
are also popular. Florida also hosts a variety of minor league
baseball
,
football
,
basketball
,
ice hockey
,
soccer
and
indoor football
teams.
Spring training
Florida is the traditional home for Major League Baseball spring training, with teams informally organized into the "
Grapefruit League
."
As of 2004
, Florida hosts the following major league teams for spring training:
Auto-racing tracks
State symbols
Sister states
See also
State Agencies
References
External links
Coordinates:
This article is copied from an
article on Wikipedia.org
- the free encyclopedia created and edited by online user community. The text was not checked or edited by anyone on our staff. Although the vast majority of the wikipedia encyclopedia articles provide accurate and timely information please do not assume the accuracy of any particular article. This article is distributed under the terms of
GNU Free Documentation License
.